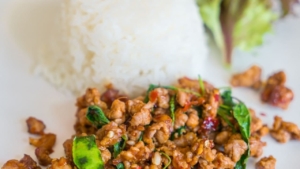 If you have been eating Thai food, you should know by now that Thai cuisine is famous because of its exquisite flavors. And one of them is the spicy taste, which makes most of the dishes flavorful. The Land of Smiles has a wide variety of Spicy Thai Food, and I'm sure you'll agree with it, especially if you love fiery dishes
Let's take a look at some of the Spicy Thai Food that you can order when you desire Asian food. 
Tom Klong Pla Grab (Sour and Spicy Smoked Dry Fish Soup)
Taste this Spicy Thai Food that will keep you going after having a bowl, especially when you have a cold or flu. The combination of sour and spicy flavor makes you feel satisfied and energized to start your day (if you have it for breakfast) or continue doing your activities. The main ingredient of this refreshing Spicy Thai Food is the dried, smoked fish. 
Neua Phat Phrik (Thai Chili Beef)
Would you like your beef to be fiery? This Spicy Thai Food is definitely a must-try. If you want a super hot flavor for your Neua Phat, you can add more fresh chilies, but if you like a mild spiciness, substitute the chilies into bell peppers.
Consisting of basil, chilies, bamboo shoots, green onions, shallots, garlic, herbs, and slices of beef, this excellent Spicy Thai Food is a type of stir-fried dish. 
Khao Pad Nam Prik Pao (Chili Paste Fried Rice)
Have you tried fried rice with chili paste? The preparation for this delicious Spicy Thai Food is not complicated. All you have to prepare are 2 cups of steamed rice, sliced hard-boiled egg, spring onions, cup onions, chili paste, garlic, bird's eye chili, sugar, fish sauce, and shrimp. And when you have all these ingredients, voila! You can enjoy your Chili Paste Fried Rice. That is if you love cooking at home and experimenting with different dishes
However, if cooking is not your cup of tea, grab your friends and order this savory Spicy Thai Food and make your day exciting!
Spicy Thai Food:
Laeng Saeb
One of the most popular inventions of street foods in Talad Rot Fai is Laeng Saeb. This dish is composed of pork bones garnished with an unbelievably great amount of green chilies. The giant pork bone with lots of green chilies on it will leave you dumbfounded upon ordering. So make sure to have someone to share with the dish because it would be nice to finish all the food you paid, right?
Pad Mee Korat (Stir-fried Korat Noodles)
Spice up your noodles with Pad Mee Korat, a Spicy Thai Food noodle in the area of Korat in the Northeast of Thailand. Comprising the dish are noodles, different spices, eggs and fresh herbs cooked in a wok pan. You can also add pork to it or any meat of your choice. The secret to making this fiery dish tastier is the sauce
When you think of creamy, savory, and Spicy Thai Food, what comes to your mind? Curry? Exactly
Do you know that curries hotness varies? From mild taste to super fiery flavor
Here are a few of the Thai curries that you might want to add on your "must-eat" list when you want to enjoy Thai cuisine.
Kaeng Tai Pla
Kaeng Tai Pla is a Spicy Thai Food in the southern part of Thailand. Its name Tai Pla means a salty sauce from fermented fish guts; that's why the dish has a powerful smell. The serving is usually composed of fish and vegetables, other materials like bamboo shoots or potatoes (alternative for bamboo shoots), yard long beans, eggplant, and fresh chilis that make the dish super spicy. 
Kaeng Som
Another well-known Southern Spicy Thai Food is Kaeng Som. This traditional dish which is also known as Thai Spur Curry, is a curry soup or vegetable soup. The main ingredients of Kaeng Som are fish and vegetables, and it is best to eat when served hot and with a bowl of steamed rice. 
Khua Kling
Let the hotness of this Spicy Thai Food excite you when dining with your friends. Khua Kling is a spicy dry-fried Thai curry dish. This dish is a little different from other Thai curries because the dry meat style is directly the one seasoning the meat compared to the other curries wherein they are cooked in a spicy sauce
Now that you know about the various Spicy Thai Food, don't hold back yourself. Instead, go on, challenge yourself and have a good time devouring the different Spicy Thai Food with your friends and loved ones. 
Your time is appreciated for reading
8 Must-try Spicy Thai Food.
Have a blast trying these mouth-watery
Spicy Thai Food.
More like this: 
Thai Cuisine History is Interesting
Best Thai Salads Ever That You Should Not Miss!
7 Popular Thai Food for Beginners
Top Ten Spicy Thai Foods You'll Surely Love
Authentic Thai Soup That You Will Crave At Yummy Thai Frisco
Spicy Sour Thai Soup: Tom Yam Types